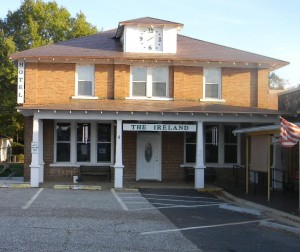 Something Old is New again!
In the heart of Murfreesboro's downtown, having been closed for 40 years, this 18th Century Hotel has a new life as The Ireland Hotel.
Enjoy the Southern style Veranda with coffee in hand, sitting on one of the benches with the ceiling fans spinning, one can watch the shoppers walking the square. Most of the shops are located on this square as well as the turn-off to the Crater of Diamonds State Park which is just 4 miles down the road. This square is the original center of town, housing buildings with various types of shops circling the old court house.
Choose from elegant cozy rooms for the solo traveler or spacious romantic rooms for couples seeking a getaway.
Custom designed and built cedar beds are the focus of the King and Queen Rooms. At the Ireland Hotel you are free to get away and relax in quiet with no children, pets or smoking permitted.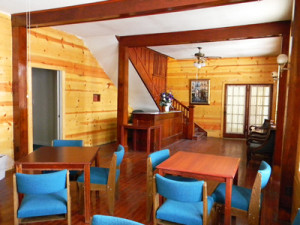 Walking into the Lobby one can see it has all the original 18th century components with the exception of the knotty pine on some walls. The hardwood lobby and staircase are quaint and beautiful reminders of yesteryear. What was once 24 rooms is now 12! Now with their own private bathroom; six on each floor with 10 & 8 foot ceilings, tall windows framed with heavy drapes to maintain the original elegance. Some of the rooms and the lobby have ceiling fans that were previously located in the halls; these will be replaced with new fans in the future.
Wi-Fi is included and Guests have full access to the swimming pool (with waterslide) at The Little Shamrock Motel, just down the street.
The Ireland hosts 12 rooms over 2 floors, rates from $100 for Queen Rooms and $145 for spacious King rooms; extended stay rates are available upon request.